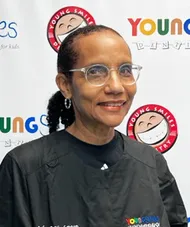 Dr. Andrea Davis Wood has been a lifelong resident of Atlanta, Georgia where she is a graduate of Frederick Douglass High School. From there, Dr. Wood enrolled into Spelman College and earned a Bachelor of Science degree in Biology. She went on to complete a Bachelor of Science degree in Pharmacy from Mercer University School of Pharmacy and worked at Grady Hospital's Inpatient and Outpatient Pharmacies, for several years, as a Registered Pharmacist. Dr. Wood was accepted to the Medical College of Georgia School of Dentistry where she received a Doctorate of Dental Medicine. While Dr. Wood is a general dentist, she chose to devote her time and skills, for the past twenty-five years, towards caring for the dental needs of children and teens.
Dr. Wood enjoys spending her time with her husband, two adult children, as well as other members of her extended family. Additionally, she loves playing with her German Shepherd dogs. In her spare time, she enjoys walking in nature parks, making jewelry, sewing and travelling.
Dr. Wood is a member of the American Dental Association and the Georgia Dental Association.